For general information on support services in Derbyshire, please see Derbyshire Healthcare Local Support Services.
Sections on this page:
Audiology
There are a number of Audiology services that you can self-refer into, please see our leaflet.
Specsavers is now accredited by over half of the NHS Clinical Commissioning Groups in England to provide NHS hearing services in local community settings, helping people to get the assistance they need with their hearing closer to home.
This means that people in some areas of the country who need help with their hearing do not necessarily need to go to a hospital to get the care they need, but instead, can choose to go their local Specsavers store.
For information on Specsavers Audiology and how to self-refer please see their website
Bereavement Support
Dandelions Bereavement Support www.wathalls.co.uk/bereavement-support/bereavement-support-groups/
Carer's Support
Are you a Carer? Do you provide unpaid support to a partner, relative, friend or neighbour who couldn't cope without your help?
Go to our carer's support page
Continence Services
Many people suffer with bladder and bowel problems and do not realise that help and advice is available. The continence advisory service offers a comprehensive assessment and treatment service by a continence specialist nurse for people with a Derbyshire GP.
For more information see the DCHS Continence Advisory Service or call 01773 546868.
Dementia
Information on what services and support are available in Derby City or Derbyshire if you are worried about your memory or have a diagnosis of dementia.
Derby City
www.makingspace.co.uk/derby-city-dementia-support
Derbyshire
www.derbyandderbyshireemotionalhealthandwellbeing.uk/adult/brain-health/well-pathway-for-dementia
Domestic Abuse
The NHS website has advice for the public on spotting the signs of domestic abuse and domestic violence and where to go for help.
The NHS also has a help page for those who have been raped or sexually assaulted.
The Home Office is promoting the freephone 24-hour National Domestic Abuse Helpline number 0808 2000 247 and associated online support available at nationaldahelpline.org.uk.
As part of the campaign, the Home Office has produced detailed advice for those experiencing domestic abuse and domestic violence.

In addition, Respect is an anonymous and confidential helpline for men and women who are harming their partners and families. The helpline also takes calls from partners or ex-partners, friends and relatives who are concerned about perpetrators.
If you are worried that a friend, neighbour or loved one is a victim of domestic abuse then you can call the freephone, 24-hour National Domestic Abuse Helpline on 0808 2000 247 and further information is on the helpline's dedicated website.
If you believe there is an immediate risk of harm to someone, or it is an emergency, you should always call 999.
Driving Support
During COVID many drivers' licences have expired. The DVLA initially gave extensions so that drivers could continue to drive and work. For many drivers however, this extension is coming to an end.
Some Drivers are now being told by the DVLA to ask their GP if they are "fit to drive" so that they can continue to drive under Section 88 of the Road Traffic Act 1988 (RTA 1988). The DVLA has produced a leaflet which explains RTA 1988.
GPs are not usually qualified, and may not be indemnified, to advise patients whether or not they are fit to drive. In normal circumstances a practice may provide a factual report for the DVLA so that their expert medical advisers will decide upon fitness. If a GP were to provide an opinion that their patient was 'fit to drive', and then an accident were to occur, the GP may be liable. This would not be covered by the Clinical Negligence Scheme for General Practice, as this is not NHS work.
If a GP were to say that a patient was not fit, then that could equally potentially adversely affect the long term doctor-patient relationship.
For these reasons, Appletree in general will decline to provide this assurance. As a GP our place is not to provide an opinion as to an individual's fitness to drive per se, but we may offer to provide factual information about a patient's health, with their consent. If a GP agrees to produce a bespoke report prepared for the patient to be sent to the DVLA on their behalf, a reasonable fee may be charged as this is not NHS work.
Eyecare
A guide to help you take care of your eyes
Our eyes are one of the most fascinating and complex parts of the body, second only to the brain in terms of complexity. Eyes can process 36,000 pieces of information in a single hour and in an average life, your eyes will see 24 million different images. We rely on them every day, yet we don't give them much thought until something goes wrong and our vision is affected. To help you take better care of your eyes, Joined Up Care Derbyshire have produced a self-care guide which enables you to calculate your eye health and find out more about:
How to prevent eye conditions
Where to get help if you do have an eye condition
Common types of eye conditions
The self-care guide is available here.
Family Healthcare / Teen Health / ChatHealth
DCHS Derbyshire Family Health Service
This website provides evidence-based advice on all matters relating to physical, mental, and emotional health and wellbeing for families in Derbyshire. The website covers topics ranging from pregnancy, to 0-5 years, to 5-10 years, to teen health and wellbeing derbyshirefamilyhealthservice.nhs.uk
Derbyshire Teen Health
This dedicated site aims to give young people the most up-to-date, expert advice on all matters related to their health and wellbeing derbyshireteenhealth.nhs.uk
ChatHealth
Text a Derbyshire school nurse via ChatHealth: 07507 330025 (11-19 year olds) This is a confidential text messaging service for young people, providing advice and support from one of our healthcare professionals. Available Monday to Friday, 9am – 4.30pm, except bank holidays.
For more information see https://derbyshirefamilyhealthservice.nhs.uk/contact-us
Leaving Hospital
Derbyshire Home from Hospital Service provides practical support for vulnerable people leaving hospital, or those living at home but at risk of being admitted. The service is provided by a combination of staff and volunteers and is free of charge.

The service is for anyone who:
Is vulnerable due to their age, health or disability, and;
Lives in Derbyshire (outside of Derby City) or, is registered with a GP in Derbyshire, and;
Has limited support from family or friends.
The service offers things like:
doing basic shopping
making sure the home is warm and comfortable
arranging key safes, community alarms or telecare
collecting prescriptions
signposting to other statutory, voluntary sector and community organisations.
Anyone can make a referral, including the patient themselves. You do not need a doctor to refer you.
Please call 01283 817417 Monday to Friday, 8.30am – 4.30pm (an answerphone is available outside these hours) or email [email protected]

Read more here and on the Derbyshire Home from Hospital Service website.
Lifestyle Support
There are a number of services across Derbyshire that accept self referral:
Also see the Derbyshire ORCHA Health and Wellbeing Apps library
Loneliness
Loneliness is an issue that can affect us all, young or old, at any point in our lives. Advice on loneliness https://www.nhs.uk/every-mind-matters/lifes-challenges/loneliness/
Mental Health Support
Improving Access to Psychological Therapies (IAPT) for Derby and Derbyshire Patients.
Emotional Wellbeing
There are a range of ways in which the NHS can support your emotional health and wellbeing.
You can speak to your GP about how you are feeling. Your GP can help you look after your mental health and wellbeing.
You can also self-refer to local Talking Therapy services (also known as Improving Access to Psychological Therapies – IAPT services) using the contact details below. You will be able to get help to manage issues such as depression, low mood, anxiety, stress or panic.
COVID-19 Update: IAPT services in Derby and Derbyshire are open and accepting referrals.
Services are now offering telephone support or video conferencing in line with government guidelines.
You can read about some positive experiences of people in Derby and Derbyshire who have had telephone and video support from local talking therapy services here.
Your local IAPT services
All four Derby and Derbyshire IAPT providers as below are accepting new referrals:
Your local IAPT services explained
What do IAPT services offer?
One in four people will experience depression or anxiety at some point of their lives. Help is available for people whose daily lives are affected.
IAPT services are psychological therapy services tailored to people's needs and include talking therapies, group approaches, couples therapy and self-help support for people who experience anxiety and depression.
Will I have to pay for IAPT Talking Therapies?
No. IAPT services are free for people to access. Derby and Derbyshire CCG provides the funding for people to access this support.
How do I choose an IAPT provider that's right for me?
There are currently four IAPT providers in Derbyshire accepting new referrals. People who are registered with a Derbyshire GP practice can choose from any of these services.
Referrals will be accepted from people aged over 18 years old, although people aged between 16 and 18 will be accepted if they are assessed as benefiting from the service.
All providers offer the National Institute for Health and Care Excellence (NICE) recommended therapies and approaches for common mental health problems such as anxiety and depression.
You might choose the provider closest to your home, workplace or family. Alternatively, you may choose the service with the shortest waiting times, the widest choice of types of treatment or the highest recovery or reliable improvement scores.
What are recovery and reliable improvement scores?
All patients who access the service are asked to complete at least two brief questionnaires at every session. The results of the questionnaires not only let you know if you are improving but also help rate the quality of services patients are receiving.
The target is that at least 50%of people using the service achieve full recovery according to the results of the questionnaires. We call these the "recovery scores". If the recovery score is 50% or over then this means that more than half of the patients they see fully recover so a high percentage score is very good.
Another way of rating the quality of the service is the reliable improvement score which is the percentage of people who experience a significant improvement in their symptoms. The target for reliable improvement is 65%. If the reliable improvement rate is 65% or over then it means that more than 65% of patients experience a significant improvement in their symptoms.
How long will I have to wait?
Waiting times vary. This can be for a number of reasons including waiting longer…
…for the different types of therapy that the services offer
…if you want to be seen on a particular day or time
…if there is a particular location where you wish to be seen.
The target is that all patients should be seen for a first appointment –'an assessment appointment' – within 6 weeks of the provider receiving your referral. This is counted from the day you contacted the service or the day the service received the GP referral.

The assessment appointment is where the therapist decides with you if you need to be seen for more sessions – called treatment sessions.
In some services you may need to wait again for a number of weeks until an appointment becomes available for treatment to take place. In others there is only a minimal waiting time between the initial assessment session and when treatment starts. They will also be able to estimate the waiting time between your first and second appointment.
How do I access a local IAPT service?
There are two ways to be referred:
Self-referral: where you access the service directly – usually by telephone, referral pack (with information about the service which may have been given to you by your GP) or online
GP referral: where your GP refers you to the service following a consultation
If the referral is not accepted, you and your GP will be informed, or you may be referred to an alternative, more appropriate service.
If your referral is accepted, the provider will contact you to arrange an initial assessment.
Where can I get more urgent help?
A new Mental health support line has been set up by Derbyshire Healthcare Foundation Trust for people of all ages in Derbyshire who may be experiencing increased mental health needs during the COVID -19 pandemic, see here for further details or telephone Freephone 0800 028 0077 between 9am and midnight (7 days per week).
The Mental health support line can also be used in the event of a crisis, where you will be directed to the most appropriate specialist support. Further information about support in a crisis is available here.
What help is there available for children, young people, parents and carers?
Information on help for children, young people, parents and carers is available here.
NHS Better Health
Kickstart your health
Healthy changes start with little changes. Whether you want to lose weight, get active or quit smoking, Better Health is here with lots of free tools and support. You can also find simple ways to lift your mood with Every Mind Matters.
Occupational Therapy
The Belper PCN employs an Occupational Therapist to help support the patients registered with either Appletree Medical Practice, Arthur Medical Centre, Riversdale Surgery or Whitemoor Medical Centre. To find out more about what our Occupational Therapist can do and how to get an appointment, please read the attached leaflet.
Physiotherapy
The DCHS outpatient physiotherapy service provides assessment, treatment and joint injections for musculoskeletal conditions. Physiotherapy services also have access to diagnostic investigations and a robust escalation process for referral to secondary care.

Self-referral into the outpatient physio and OT services is available via online form on the MSK website www.mskderbyshire.org.uk or by telephoning Therapy Direct on 01246 565050.
GetUBetter – MSK app
In addition to physiotherapy, NHS Joined Up Care Derby MSK app is now available to all patients. It's a FREE, easy-to-use tool helping you to self-manage your muscle, bone, and joint (MSK) injuries and conditions.
No need to wait for an appointment
Instant access to a personalised plan
Safe and effective
What is getUBetter?
GetUBetter is an app helping you self-manage at home, work, and on the move. It can be accessed on a Smartphone or via the Web.
It covers a range of MSK injuries and condition, like back pain and ankle pain, and is designed to help you recover, understand when and where to seek help, and prevent further injuries.?
Who is the GetUBetter App for?
Anyone over 18
Anyone who's been advised or chose to self-manage
Anyone waiting for treatment
What will I get?
A personalised recovery plan
Step-by-step guidance
Exercises based on your condition
Advice to seek help, if needed.
Referral to your local healthcare providers, treatments, and services, if needed.
How do I download and use GetUBetter?
1.Follow the link to access your local health service https://app.getubetter.com/request-access/1/6a2feef8ed6a9fe76d6b3f30f02150b4?t=1
2. With the same email, create an account on the app
3. Follow the instructions on the app, get your recovery plan and get better!
Need more help? Get in touch: [email protected]
Safe Places
As we emerge out of lockdown it is even more important we have Safe Places where people can go if they feel scared, lost, unwell or anxious. Knowing where Safe Places are is a comfort to many people and instils them with confidence when they venture out and about.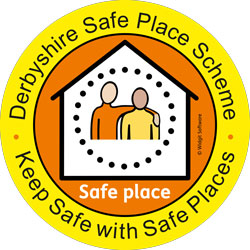 For many people who suffer with anxiety, stress or depression a trip outside the home can be a harrowing experience. The onset of Covid-19 has exacerbated this and more people are fearful of going out.
The Safe Place Scheme is part of our Hate Crime / Keeping Safe project. It is supported by MacIntyre, Derbyshire Police, Trading Standards and the Derbyshire Learning Disability Partnership Board.
Safe Places are public buildings in towns and communities across Derbyshire, such as libraries, GP surgeries, pharmacies and shops. They have stickers in their windows so people can see that they are part of the scheme and know they can go in and ask for help if they need to.
The staff working in a safe place know how to help people with learning disabilities, dementia or other difficulties that make them vulnerable.
All Safe Places are detailed on the Derbyshire County Council Safe Places web page.
For further information please see the Safe Places leaflet
Sleepstation
Sleepstation is a clinically validated sleep improvement programme that can help you sleep better after just four sessions. Designed by experts and backed by science, our online sleep service is proven to combat even the most severe insomnia. Our team of coaches, doctors and sleep experts will help you identify the underlying causes of your sleep problem and provide the personal support needed to improve your sleep. We deliver remote care with a personal touch and that's what makes our service so effective.
Please go to sleepstation.org.uk/nhs_options/ for further information
Suicide Help
Samaritans are waiting for your call. Whatever you're going through, a Samaritan will face it with you, 24 hours a day, 365 days of the year.
Telephone: 0116 123 for free
Teen Health and Wellbeing
As a young person in Derbyshire, we believe that your health and wellbeing information should work for you. Here we hope you will find information that can support you and help you to make decisions about your mental, physical and emotional health.
www.derbyshireteenhealth.nhs.uk
Waiting for your hospital appointment
UHDB have released some guidance to patients on the steps that they need to take to ensure that they're seen by the right NHS service for them, depending on their needs.
This includes advice on what patients should do if they've been to see their GP and been referred to hospital but haven't yet had an appointment confirmed, as well as what they need to do, should their symptoms get worse before their appointment date.
This guidance can be accessed on the UHDB website here. For more information and average waiting times please see here.